Henrik Colding-Jørgensen: "Non ricordare più"
f. female choir a cappella 2015. Text: The Bible, Isaiah 43, 18-19. Italian edition from 1927.
Für die Pfarrei St. Martin Bingen anlässlich der 600-Jahr-Feier ihrer Basilika und den Chor "Clara Voce"
Copyright © 2015 H. Colding-Jørgensen.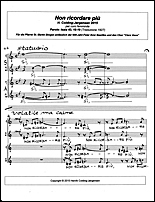 Text:
"Non ricordare più le cose passate, e non considerate più le cose antiche; ecco, io sto per fare una cosa nuova; essa sta per germogliare; non la riconoscerete voi? Sì, io aprirò una strada nel deserto, farò scorrer de' fiumi nella solitudine."
"Remember not the former things, neither consider the things of old; behold, I will do a new thing; now it shall spring forth; shall you not know it? Yes, I will open a way in the wilderness, make rivers run in the desert."
First performance at Basilika St. Martin, Bingen, May 22, 2016 by Voce Clara and Alexander Müller:
                                  Poster and program
                                  C. V. Clara Voce and Alexander Müller (pdf)