Henrik Colding-Jørgensen: Introitus Psalmus 117 (2000)
ψ CXVII
for mixed voices SATB a cappella. Latin text. Manuscript.
Copyright ã 2000 H. Colding-Jorgensen.
First performed by Sct. Peders Koncertkor, Randers, cond. Karsten Blond, 19 June 2001
Dedicated to the Norwegian composer Knut Nystedt.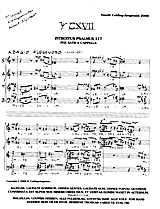 SCORE SATB:     Fullsize    Format a4
A short audio fragment. Sct. Peders Koncertkor 2014 here
Text: Psalmus 117:
ALLELUIA, LAUDATE DOMINUM, OMNES GENTES.
LAUDATE EUM, OMNES POPULI.
QUONIAM CONFIRMATA EST SUPER NOS MISERICORDIA EIUS,
ET VERITAS DOMINI MANET IN AETERNUM.