HENRIK COLDING-JORGENSEN
Composer
Informations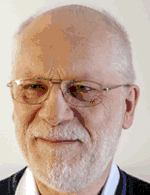 Henrik Colding-Jřrgensen 2015
2016-05-22
"Non ricordare piů"
Commissioned by the Parish of St. Martin Bingen for the 600 years celebration of its basilika, for the choir "Clara Voce".
First performance 22 May 2016 in Basilika St. Martin, Bingen, conducted by Regionalkantor Alexander Müller.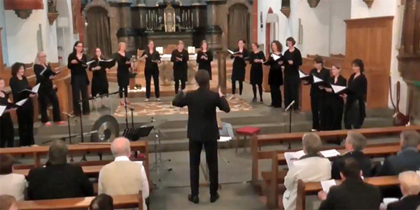 2016-04-23
"Diptychon" in competition.
23 April 2016 Virág Benedek Női Kar - the female part of Virág Benedek Youth Choir - and their conductor József Cseke were awarded a Golden Diploma in the Hungarian competition Helikon 2016. Diptychon begins after 2 min 50 sec.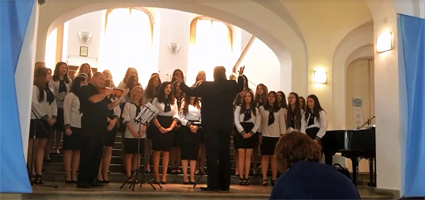 More information about the composition at this page.
First performance at Hundige Church see this link.
2015-06-26
Reading session and award ceremony
at the Europa Cantat Festival in Pécs 2015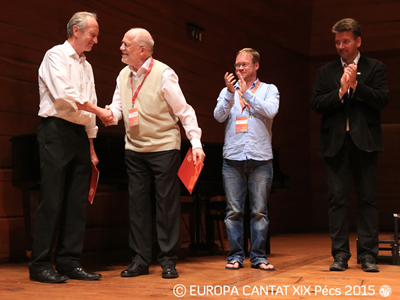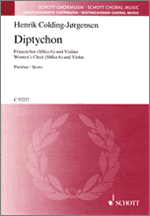 Lau Michelsen, Danish Amateur Music Union, and Henrik Colding-Jorgensen shake hands on the stage, applauded by Jan Schumacher, chairman of the Europa Cantat Music committee, and Gabor Mocsar, chairman of Europa Cantat, and the audience.
"Diptychon" was presented at a reading session 26 July 2015 as part of the festival's composers' and conductors' program at the music academy in the Zsolnaj Cultural Centre. Henrik Colding-Jorgensen was cooperating with a group of female singers from Virág Benedek Youth Choir from Nagykanizsa, Hungary, and their conductor József Cseke, in a kind of open rehearsal. Later the same day there was an awardgiving ceremony in Kodaly Hall during a concert with the Radio Choir. See the award certificate here (pdf).
2015-07
"Diptychon" published
by Schott Music July 2015
The edition consists of a choral score in print and a violin part, that is downloaded for free from the publisher's website.
2014-09-22
European Award
for Choral Composers 2014/15
By European Choral Association - Europa Cantat
At the present edition of the award, "Diptychon" for female choir and violin (2011) recieved special mention in category B, compositions for choir and instruments. No prize was awarded in category B, but two works were nominated for special mention. In category A, a cappella choir, one prize was awarded. "Diptychon" was submitted by the Union of Danish Choir Directors together with DAM, Danish Amateur Music. Se the official press release here (pdf)
2013-03-17
Premičre of "Maria am Rosenhag"
Hundige Church, 17 March 2013, at a musical service celebrating the Annunciation to the Blessed Virgin Maria. Kildebronde Girl Choir was conducted by the composer.
2011-04-11
First performance of "Diptychon"
f. female choir and violin solo.
"Diptychon" consists of two short movements: "Eloi" for SA+violin and "Clamavi" for SMA+violin. The composition was written in February 2011 for the composer's own "Kildebronde Girl Choir" and was premiered on the evening of Good Friday, 22 April 2011, in Hundige Church, directed by the composer and with Piotr Gasior playing the solo violin.
The text of "Eloi" is the cry of Jesus "Eloi, Eloi, lema shabaqtani?" from Mark 15, 34. The language is ancient Aramaic. The Latin text of "Clamavi" is part of the "De profundis" Psalm 129, (1b-2, 4b-5).
2010-03-21
First performance: "My Love"
The first of "Three Love Songs" for SSAA
"My Love" was written 2009 to a well known text by Robert Burns. The compositiion was first performed by Folkekirkens Ungdomskors Landskor, conducted by Ole Faurschou, at Lyngsaa Church in Denmark, March 21, 2010, and later in the cathedrals of Odense, Haderslev and Aalborg April 17, 18 and 19.
2009-11-02
Organ work presented in Herning
"Lux Perpetua Luceat Eis" for organ solo was premiered by the composer in St. Johannes Church, Herning, on the eve of November 2, 2009. The concert was the 15. and final manifestation of Bjarne Hersbo's "Autograph"-project, this time featuring 12 first performances of Danish organ compositions, eight of them played by the composers themselves.
2009-07-21
"Choir to choir" in Utrecht
Europa Cantat festival XVII took place in Utrecht, The Netherlands, July 17 to 26, 2009. On Tuesday, July 21, was performed in St. Pieterskerk (St. Peters Church) both the speech choir composition "Gloria Halleluja" and the three part canon "Hallelujah, praise the Lord". The recital was part of the Festival's Choir to Choir program, and the performing choir was a union of singers from Kildebronde Girl Choir and Norrelandskirken Kor, both Danish choirs, conducted by the composer.
2009-05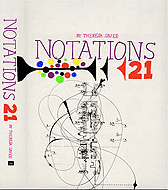 The "Notation21" book cover as designed by Mark Batty Publisher (New York). The first run of volumes was released in May 2009. "Notation21" is available on www.amazon.com The book is edited by the American musicologist Theresa Sauer and consists of graphic notations by about 160 composers from all over the world. A significant element in the front cover is a segment of Henrik Colding-Jorgensen: Museik No. 10 from 1979:

Notations21 includes Museik No. 10 (1979) and Museik No. 9 (1979-1994) together with a short text by Colding-Jorgensen about the Museik project and the employment of graphic notations. Vis-a-vis the book's preface is placed the single black and white sheet of Colding-Jorgensen's "CHAOS" from 1986. See also MUSEIK
2009-04
"Angst" & OSANNA!
"Angst" for treble choir, oboe and string quartet (2004) and OSANNA! for SSAA a cappella (2003) was recorded April 2009 by Folkekirkens Ungdomskors Landskor, directed by Ole Faurschou.
2009-03
Review in the periodical "Church Music Quarterly"
March 2009 of "Ave Maria", f. unisono choir, together with "Maria Interludium" for solo oboe, and "Hallelujah! Praise the Lord!" for three equal voices.
2008-07-24
OSANNA!
in WSCM8, Worlds Symposium for Choral Music in Copenhagen. Performance Trinitatis Church, Copenhagen, Thursday, July 24 by The National Church Choir, Denmark, conducted by Ole Faurschou.
2008-06-08
"Pelican Choir" in Seattle
Ancora Womens' Choir
"Pelican Choir" was performed at a concert at the Nordic Heritage Museum in Seattle, bearing the title of "Songs of the Sea", to celebrate Seattle's maritime heritage.
2007-11-24
Bach's Christmas (2007)
A chorale chain for oboe solo - with eight Bach chorales.
Commissioned by Nuuk Nordic Choir - Nordisk Koncertkor, Greenland.
Nuuk Nordic Choir, a mixed choir conducted by the composer's sister Bente Colding-Jřrgensen, sing the eight chorale movements from Johann Sebastian Bach's Chrismas Oratoro I, II and III. The chorales are linked by short sections for oboe solo, and the oboe accompanies also five of the chorales. First performance 24 November 2007 in Nuuk, Greenland. More information here
2006
AVE MARIA RECORDED WITH OBOE
Folkekirkens Ungdomskors Landskor included Ave Maria in their cd "Himlen forkynder Guds ćre" in 2006. Oboe: Merete Hoffmann, dir. Ole Faurschou.  Score at Nodehandleren
2006
AVE MARIA RECORDED
The short Ave Maria is recorded on the CD "Vakna först i sommartid" by Brunnsbokören from Göteborg, concucted by Anne Johansson. Edited by IntimMusik AB 2006.
2006
OSANNA! recorded
The German Ladies' Choir "Münchner Frauenchor" recorded the "OSANNA!" as part of their CD release: "Musica in discantu 2", published in 2006.
2006-11-06
Organ works presented in Herning
"7 Intermezzi & 1 Interludium" for organ solo was premiered in St. Johannes Church, Herning, on the eve of November 6, 2006, the composer playing the organ himself. The concert was the 2006 manifestation of Bjarne Hersbo's "Autograph"-project and included three other organists, playing their own compositions.
2005-11-12 - 2005-12-17
AVE MARIA IN RINGE AND HOLSTEBRO
AVE MARIA f. unison a cappella was performed at a choral festival for youth choirs in Ringe Church, Funen, on Saturday, November 12, 2005, conducted by Ole Faurschou, and in Holstebro Church on Friday, December 17, 2005, conducted by same.
2005-11-06
"ANGST" IN DALUM, ODENSE
In Dalum Church, Odense, "Angst" for oboe, equal voices and stringqartet was performed at an All Saints service on Sunday, November 6, 2005. Conductor was Jřrgen Graven Nielsen, the oboe soloist Henrik Skotte Larsen and a stringquartet from Odense Philharmonic Orchestra. The choirs were from Dalum church itself, directed and rehearsed by Jane Laut. The Danish text is one of the extremely few hymns by Hans Christian Andersen. See also ed. Edition-S
2005-10
OSANNA! on a small tour in Denmark
The Finnish childrens choir Oulaisten Nourisukuoro, conducted by Tapani Tirilä, made a small tour in Denmark in the beginning of October 2005 and performed Osanna! in Vejen, Holstebro and Lřgumkloster.
2005-09
OSANNA! IN UKRAINE
In the Struve choir competition and festival in Ukraine August and September 2005, OSANNA! was sung by The Childrens Choir of Krasnoyarsk City, "The Little Eagles of Siberia", conducted by Ludmilla Stebenkova. The "Eagles" won the Grand Prix of the festival.
2005-06-21
CHORAL WORKS IN FESTIVAL IN HERNING
ANGST for equal voices, oboe and stringquartet, 2004, had its first performance at Folkekirkens Ungdomskor's National Choir Festival in Herning, Jutland, June 21, 2005,  in Johannes Church, Herning. The festival choir, consisting of singers from Vejen, Holbćk and Glreve, was conducted by Ole Faurschou. At the same festival Requiem Aeternam for equal voices a cappalla, was performed by another group, conducted by Bente Colding-Jřrgensen. See also ed. Edition-S
2005-05
AVE MARIA at NORBUSANG
AVE MARIA was on the programme of the youth choir festival Norbusang in Odense 25.-28. May, 2005 in a festival workshop conducted by Ole Faurschou.
2005-03-12
NEW HANS ANDERSEN WORK AT FESTIVAL
At the festival Holmboe in Horsens the new composition Barnet (2004) for SMA treble choir and SMA small group or solo voices, a cappella, was premiered at a concert 12. march 2005 in Horsens,
2003-11-21
OSANNA!
for SSAA a cappella
had its first performance in Holmens Church, Copenhagen, Friday, November 21, 2003, celebrating the 25h anniversary of The Childrens Choir of The Royal Academy of Music, cunducted by Bente Colding-Jorgensen, sister of the composer and director of the choir. The composition is dedicated to Bente C-J.
2003-10-07
Dolori
for saxophone quartet
 was presented at a concert in Hundige Church Tuesday, october the 7, 2003, performed by Copenhhagen Saxophone Quartet. See also ed. Edition-S
2002-08
Duo Viri in Vestibus Albis
for organ solo
was mandatory for all participants in the 1. round of the International Organ Competition in Odense, august 13-23, 2002. There was a special prize for the best performance of this composition, won by the Swiss organist Burkhardt Just. Published in the collection "Orgelbog ved Aartusindskiftet" (Organ Book at the turn of the Millenium), Ed. Egtved MF 587. c/o Edition Wilhelm Hansen - Danish title: "To maend i hvide klaeder".
2002-07-03
"TURTLE SOUP" IN KATHAUMIXW
The National Danish Girl Choir (Radiopigekoret) conducted by Michael Bojesen performed British Song no. 4: "Turtle Soup" at the Kathaumixw festival, Powell River, Canada, July the 3, 2002.  The choir won the overall prize as Choir Of The Year along with 1. prize in the group of youth choirs, and 2. prize in performance of contemporary music.
2002-05-08
Kyrie Agnus Dei
for speech choir was written for Herning Kirkes Drengekor and its director Mads Bille on a commission from The Danish State Art Foundation.