Henrik Colding-Jørgensen: Pelican Choir
f. equal voices, SS+AA+SS+AA a cappella. British text by Edward Lear.
Copyright ã 2007 H. Colding-Jorgensen.
Manuscript.
SCORE (pdf):  FULLSIZE   Format A4
8 staves: S(1,2) - A (3,4) - S (5,6) - A (7,8)
PARTICEL:  A4
4 staves: 1+2 - 3+4 - 5+6 - 7+8
The choir should be placed in the four corners of the hall,
as shown at the end of the score.
Text:
We live on the Nile. The Nile we love.
By night we sleep on the cliffs above.
By day we fish, and at eve we stand
On long bare islands of yellow sand.
And when the sun sinks slowly down
And the great rock walls grow dark and brown,
Where the purple river rolls fast and dim
And the ivory Ibis starlike skim,
Wing to wing we dance around.
Text from: Edward Lear (1812-1888): ThePelican Chorus.
First performed at Nordic Heritage Museum, Seattle, 8 June 2008 by Ancora Womens Choir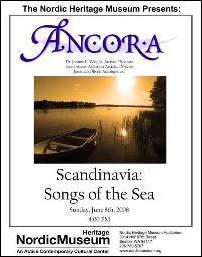 Scandinavia: Songs of the Sea, June 8, 2008, Nordic Heritage Museum, Seattle
Dr. Jerome L. Wright, Artistic Director, Tess Orozco, Assistant Artistic Director
Jeremiah Oliver, Accompanist
This spring 2008 concert was a collaboration between Ancora and the
Nordic Heritage Museum in Seattle.
The beautiful museum played stage to Ancora's collection of Norwegian, Swedish,
Finnish, Danish, and Estonian pieces, featuring works from Zoltán Kodály, Jean
Sibelius, Daniel E. Gawthrop, and Henrik Colding-Jorgensen.
A reception followed the performance, comprised of Scandinavian delicacies
prepared by members of the Nordic Heritage Museum.