Henrik Colding-Jørgensen: OSANNA!
f. 4-part treble choir a cappella, 2003.
Dedicated to choir director Bente Colding-Jørgensen and the Children's Choir of the The Royal Academy of Music, Copenhagen. First performance Holmens Church, Copenhagen, 21 November 2003.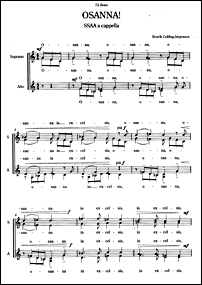 Ed. EDITION-S 2004. See the entire score here ("OSANNA! and Requiem Aeternam")
Copyright ã 2004 Edition S, Copenhagen
Recordings (selection):
Included in "I Himmelen, i Himmelen" LSCR FI LYRANCD-3, 2004, by Akademiska Damkören Lyran, dir. Kari Turunen.
Included in "Musica in Discantu 2" Rondeau ROP 6012, 2006, by Münchner Frauenchor, dir. Katrin Wende-Ehmer. Audio fragment here
Included in "Osanna!", CD www.fuk.dk 2010, by Folkekirkens Ungdomskor Landskoret, dir. Ole Faurschou.
Text:
Osanna in excelsis.
Laudate Dominum. Laudate eum.
Laudate, laudamus te, benedicimus te, adoramus te, glorificamus te,
laudamus te, laudate,
osanna, in excelsis, osanna!