Henrik Colding-Jørgensen:
MUSEIK
Graphic sheets, 1979-1994. Restored 2007
Copyright © 1979, 1994 and 2007 Henrik Colding-Jorgensen
Commissioned by the Childrens Music Week of the
Society for Contemporary Music, D.U.T. in Copenhagen 1979.
First performance at the State Art Museum in Copenhagen 1979,
directed by the composer.

H. Colding-Jorgensen in "Notations 21" about MUSEIK
(No. 9 and no. 10 of the MUSEIK sheets were included in
Theresa Sauer: "Notations 21". The section of Sheet No. 10
was included in the front illustration.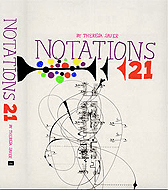 Ed. Mark Batty Publisher, New York 2009)
Size: 29,7 x 21,0 cm. Press the miniatures of the sheets: