Henrik Colding-Jorgensen: Maria Interludium
f. oboe solo 1996. Commissioned by Folkekirkens Ungdomskor to be played beween a Latin and a Danish performance of "Ave Maria". First performance at a National Choral Festival in Haderslev Cathedral, Denmark.
†††††††††††††††††††††††††††††††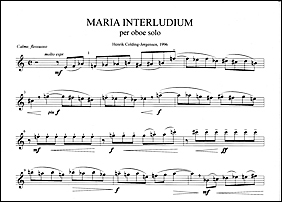 †††††††††††† Short audio fragment here
Ed.DanMus c/o www.nodehandleren.dk. Printed with "Ave Maria" and "Hallelujah! Praise the Lord!"
May be performed after †"Ave Maria" and followed by a repetition of "Ave Maria" en suite.
See review in Church Music Quarterly March 2009
Recording:
Included in "Himlen forkynder Guds śre", Classico CLASSCD 685 2006 by Folkekirkens Ungdomskor's Landskor and Merete Hoffmann, oboe, dir. Ole Faurschou. (Ave Maria - Maria Interludium - Ave Maria)