Henrik Colding-Jørgensen: Gloria Halleluja
for 3-part speaking choir a cappella, 1988. Latin text.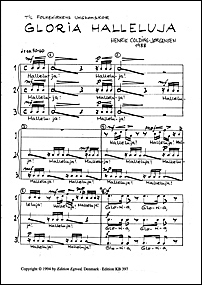 Ed. Egtved. Read the score at this link (at the bottom of the page).
Copyright ã 1998 Edition Wilhelm Hansen.
First performance 19 June 1988 in Fredens Church, Odense, at a National festival of Folkekirkens Ungdomskor, directed by the composer.
In 1994 performed at the inauguration of the international Europa Cantat Festival in Herning, Denmark, by Herning Boys Choir, directed by Mads Bille, reported on national television.
Recording: Included in
Montefagorum MP 20 120 "LIVE!" with CBM Jeugdkoor.
Text:
GLORIA IN EXCELSIS DEO. ET IN TERRA PAX HOMINIBUS BONÆ VOLUNTATIS.
LAUDAMUS TE. BENEDICIMUS TE. ADORAMUS TE. GLORIFICAMUS TE. HALLELUJA!