HENRIK COLDING-JØRGENSEN: ET RECORDATUS EST (2006)
f. soprano solo, treble choir SMA and organ. Latin text, Luc. 22, 61b-62. Manuscript.
Score and choral part SMA. Copyright ã 2006 H. Colding-Jorgensen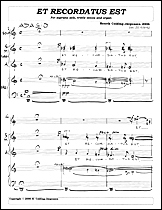 Format A4   Full score   -  Choral part
Format A3 landscape         Organ score
Text:
Et recordatus Petrus verbi Domini, sicut dixit ei:
Priusquam gallus cantet hodie, ter me negabis.
Et egressus foras flevit amare.
Luc. 22, 61b-62, Nova Vulgata.
And Then Peter remembered the word of the Lord, how He had said to him:
Before the rooster crows, you will deny Me three times.
So Peter went out and wept bitterly
New King James Version.