Henrik Colding-Jorgensen: Discourse With Time
Music for a peace powder magazine
(Diskurs Med Tiden)
(Musik for Fredskrudtmagasin)
Introduction
- o -
Vestvolden (The Western Rampart) lies today as a multi-ambiguous paradox. The original ramparts with bare grass are now covered by luxuriant wood; many parts of the edifice are in states of extensive decay. The great - an in its own days formidable - rampart system was never used in a war. Many of the brickwork and concrete structures lie underground, mostly unnoticed.
Copenhagen was appointet European Capital of Culture for the year of 1996. "Discourse With Time" was part of "Operation Vestvolden", an extensive culture festival held June 15 to 23, 1996, by the municipality of Brøndby at the western outskirts of Copenhagen. The old rampart system runs through Brondby on its way to the coast, and many of the festival activities took place near an old "fredskrudtmagasin" (peacetime gunpowder magazine), built into the inner slope of the rampart.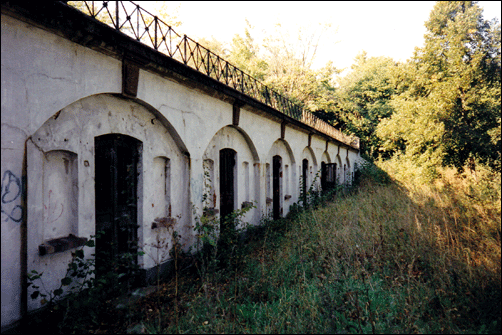 The front of the old peace powder magazine, Brøndby, 1995. Before the project.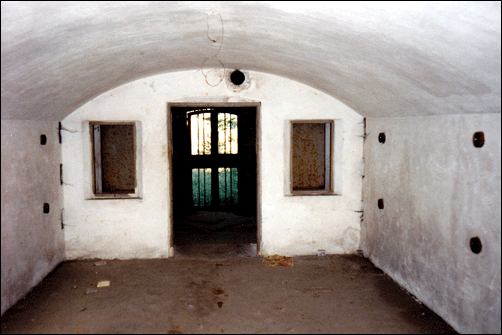 A subterranean cell, 1995. Before the project.
The intention of the municipality of Brøndby was to show the historical and cultural past as well as the contemporary wild and luxuriant nature, in a setting of a series of artistic projects. "Operation Vestvolden" included expositions, amateur theatre, guided tours and concerts.
"Discourse With Time" was commissioned as the musical part of a large installation project, with installations located outdoors in the terrain and indoors in the vaults of the old peace powder magazine. The installations were made by the three artists Jane Balsgaard, Vibeke Glarbo and Suste Bonnén, and the music was composed by Henrik Colding-Jørgensen as a web of relations between the installations and the locations on the rampart and in the old powder magazine. The elements of the composition were performed in the different rooms of the magazine and at various outdoor locations near the installations. The six instruments started together in the hall of the magazine and made their own independent way in the vaults and outside on the rampart, ending in six different places. The audience would walk around indoors and outdoors, following some musician or locating the music by ear.
The music was performed live at the opening of the festival and again two of the last days, including St. Johns Eve, where it was performed before the traditional St. John's bonfire. The duration of the composition is about half an hour, and before each performance was played a fanfare - "Signal Vestvolden" for 4 trumpets - from above the facade of the magazine.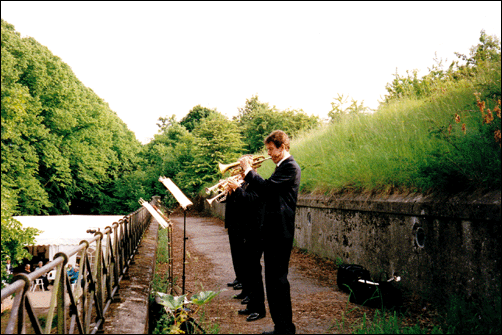 Signal Vestvolden, 1996
The sculptural installations were not permanent, but were left for a few months after the festival. During summer 1996 the installations in the magazine cells - and of course the outdoor installations - were accessible to the public, and could be experienced, some of them in varying states of decay. A studio recorded collection of elements from "Discourse With Time" was played from time to time in the magazine hall.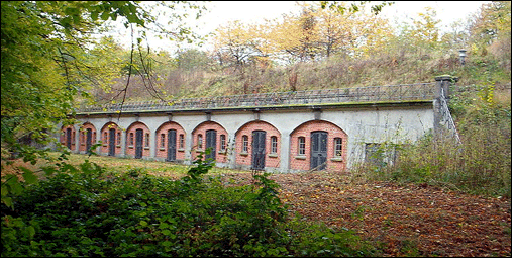 The Peace Powder Magazine, Brøndby, later (2006).
Copyright © 2017 H. Colding-Jorgensen