Henrik Colding-Jorgensen: Discourse With Time (1996)
Music for a peace powder magazine *)
- Danish title: Diskurs Med Tiden (Musik for Fredskrudtmagasin)
Manuscript. Copyright © H. Colding-Jorgensen 1996
See links at the bottom of the page
For Flute (C and G alto), Clarinet (Bb and Bb basso), Saxophone (Eb alto and Eb basso), Trombone, Cello and Percussion **)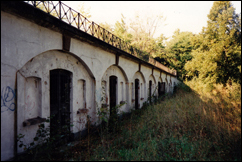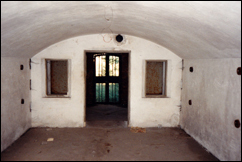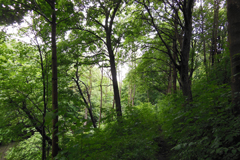 "Discourse With Time" was commissioned as the musical part of a large installation project, with installations located outdoors in the terrain and indoors in the vaults of the old peace powder magazine.  The installations were made by the three artists Jane Balsgaard, Vibeke Glarbo and Suste Bonnén.
The Discourse makes a web of musical relations between the various installations located in different places on the rampart and in the old powder magazine, as the elements of the composition are performed in the different rooms of the magazine and at the different outdoor locations. The music begins as a unity in the magazine hall, with the six musicians starting together in the hall of the magazine. Gradually the musicians venture individually out in the other vaults and outside on the terrain of the rampart, ending apart from each other in six different places, partly out of hearing range of each other. The audience walk around indoors and outdoors, following some musician or seeking the music, they hear from various directions. The total duration of the composition is about half an hour.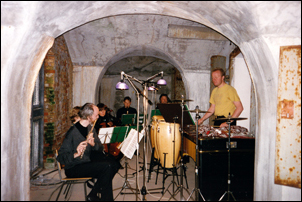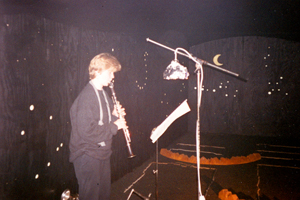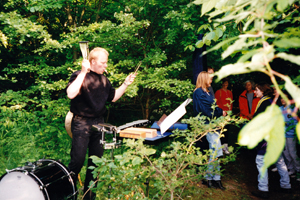 The first performance took place at the opening of the festival Saturday, June 15, 1996, and was repeated Friday, June 21, and St. Johns Eve, Sunday, June 23, where it was performed before the traditional St. John's bonfire. Before each performance was played a fanfare - "Signal Vestvolden" for 4 trumpets - from the balcony of the magazine.
Copyright © 2017 H. Colding-Jorgensen
*) Peace powder magazine: A magazine for storing gunpowder during peacetime.
**) Percussion instrumentation: 1 player in all.
Spiral: Triangel - Marimbaphone - 3 Congas - 3 Piatti sospesi
Arm 1: 2 "Clicking frogs" - Siren whistle
Through The Looking Glass: Siren whistle - 2 Flexatones - Gran Cassa ped. - Wu-Han flat gong - 5 Chinese Temple Blocks - 2 Woodblocks - 2 Cowbells.
Stamp: 2 Chinese Cymbals susp. - 3 small Tom-Toms - 2 Bongos - 2 small Bongos.
Well: Tubular Bells (13 bells between c'# and e" - see score), Vibraphone, Tam-Tam.
Go to: A short introduction to "Operation Vestvolden" (Operation Western Rampart). In 1996 Copenhagen was appointed European Capital of Culture.
Go to: SCORES of the 21 musical elements, their instrumentation and approximate starting times and durations, and a map of their locations on the section of the Western Rampart and in the vaults of the Peace Powder Magazine.
Go to: Short audio fragments of a studio recording, made as a combination of the 21 elements, approximately coordinated as in a live performance on the project site, but recorded from different places in one large studio hall. A few photos from the prémiere and from the magazine and the rampart.
Go to: MAP of the Rampart with canal and caponniere. The situation of the magazine in the terrain is at the lower corner to the right.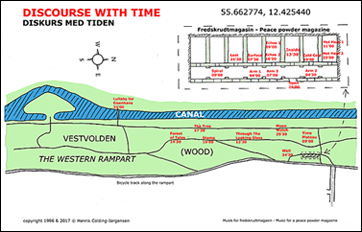 for 4 trumpets, played from the balcony of the magazine before each of the three performances of Discourse With Time.
Including score and audio fragment.