Composer, choir director, educator, organist
Born 1944 at Riiskov, Denmark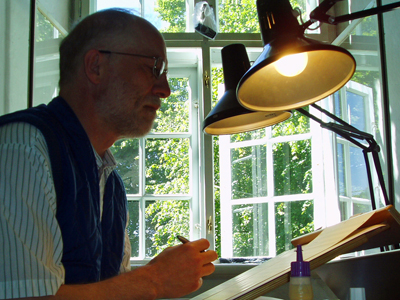 Curriculum Vitae

Henrik Colding-Jorgensen received his degree as an organist from the Royal Danish Academy of Music in 1966 and as an authorised music teacher in 1967. During the early 1960s he studied composition with Vagn Holmboe complimenting this with later independent study on instrumentation, electro-acoustics, computer programming and more.
Henrik Colding-Jørgensen taught theory, ear training and organ at the Copenhagen Music School from 1967 to 1970; and from 1969 until 1975 classes on music theory at the The Carl Nielsen Academy of Music, Odense. From 1975 until 2019 he was appointed organist and choir director at Hundige and Kildebrønde Churches south of Copenhagen, where he was responsible for this large parish's musical requirements, including Hundige-Kildebronde Girl Choir, singing in the two churches.
Composer

His music includes a number of orchestral works - with or without choir and soloists, - vocal and instrumental chamber music, choral music and works for amateur musicians. Most recent chamber music is works for solo tuba, saxophonequartet, cello solo, organ or choir. A series of chamber works and choral music has been published in 2004 and 2005 by Edition Samfundet, Copenhagen. About the last decade he has created a number of choral works, for mixed or equal voices. In 2007, some aleatoric and graphic compositions from 1979, 1980 and 1992 had their colours restored and lines partly redrawn for inclusion in the "Notations21" collection, published 2008 in New York.

Henrik Colding-Jørgensen received a bursary from the Danish State Art Foundation for the years 1969-72. He won composition prizes in 1969 (4 preludes), 1970 (Albert), 1973 (Magnus) and Concours Internationale Musicale Opera et Ballet de Genéve 1985 (Nuup Kangerlua).
2 Songs by Keats, a duo for soprano and guitar, was performed for the first time at the Nordic Music Days Festival (1990), Le Alpi Nel Cuore for orchestra at the opening of Louisiana Museum of Modern Art's new exhibition hall in 1991, Sourires, for solo tuba, at the Nordic Music Days Festival 2000 in Finland, and Englens Hånd (The Hand Of The Angel), for alto, bass, piano and accordion, at the Suså Festival 2001. In 2015 he recieved the European Award for Choral Composers 2014/15 for his composition "Diptychon" for treble choir and violin from 2011.  
Commissions (Selection)
Magnus (organ) 1972, Skovshoved Kirke - Altid Noget Andet (ten, via d'amore) 1973, Lyngby Unge Tonekunstnere - Jeg ved det godt (tape) with Karsten Bjarnholt, 1973, The Danish State Radio - Victoria Gennem Skoven (contralto, orch) 1975, Randers Byorkester - At Elske Musikken (To love music) 1976, The Danish Radio Symphony Orchestra - Ballade (tuba and orch) 1979, The Danish State Art Foundation, Jørgen Arnstedt - Som En Rejsende (vcl, prc) 1992, Ny Musik i Birkerød - Krystal, Metamorfose (stringquartet) 1993, Frederiksborg Amtsmusikudvalg, Svend Erik Jensen - Signal Vestvolden (4 tpts) 1995, Culture Capital 96, Brøndby Kommune - Discours With Time; Musik For Fredskrudtmagasin (fl, clar, vcl, sax, tbn, prc in interaction with sculptures and installation) 1996, Culture Capital 96, Brøndby Kommune. Kyrie Agnus Dei (SATB speech choir) 2002, Herning Kirkes Drengekor and The Danish State Art Foundation. - Bach's Christmas (solo oboe, mixed choir and organ, including eight chorales from Bach's Christmas Oratorio) 2007, commissioned by Nuuk Nordic Choir, Greenland. Non ricordare più (coro femminile) 2015, für die Pfarrei St. Martin Bingen und den Chor "Clara Voce".
Henrik Colding-Jørgensen was a member of the Danish Composer's Association managing committee from 1981 until 1991 and has participated in a number of other committees and boards.
Choir director See this link