Henrik Colding-Jørgensen:
Og han viste mig en flod med Livets vand
(And he showed me a river with the water of Life)
for treble voices SMA a cappella, 1979 - 1985. Danish text (Rev.22,1-5).
Two movements: I. Moderato (1979) - II. Andante (1985). Manuscript.
Copyright ã 1985 H. Colding-Jorgensen
Dedicated to Lars Angerdal and Koralkoret of the Cathedral of Uppsala.
First performance Uppsala 1987.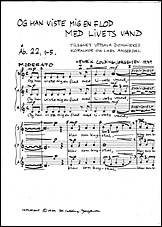 A few pages from the manuscript