Henrik Colding-Jørgensen
Compositions for organ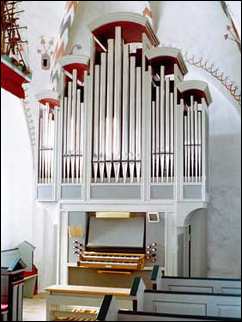 Lux Perpertua Luceat Eis f. organ solo, 2009. Premiered St. Johannes Church, Herning, 2 November 2009. 4 ½'. Manus
7 Intermezzi + 1 Interludium f. organ solo, 2006. Premiered St. Johannes Church, Herning, 6 November 2006. Manus
To Mænd I Hvide Klæder, Duo Viri In Vestibus Albis f. organ solo,1999. Prem. St. Johannes Kirke, Herning, 1. nov. 1999. Mandatory at the International Organ Competition in Odense 2002. Ed. Egtved. c/o Edition Wilhelm Hansen.
Blå stele og svævende sejl. f. organ solo, 1996. Prem. 4. 11. 1996 i Herning. Commissioned by Bjarne Hersbo
Three organ pieces - f. organ solo, 1992. Pastorale (3') - Elegie (3')- Fanfare (2'). Manus
Se, her er mere end Salomon (Behold, something greater than Solomon is here), f. organ, 1988. Meditation over Matt. 12, 42. Prem. 21.8.1988 in Kildebrønde Church. Ed. Kirkemusikforlaget 2004. "Maet min sjael", p. 68.
Meditation til Fasten - Meditation du Carême - Meditation for Lent, f. organ, 1987. Alle Mine Departementer, f. contralto, baritone, gt/elgt, vcl, prc, org/pno/tape, 1971. Prem. Gladsaxe 1971. Commisioned by Søborgmagle Kirke. Manus "Mæt min sjæl", p. 58. Ed. Kirkemusikforlaget 2004
I dødens bånd vor frelser lå, Short partita f. organ "Christ lag in Totesbanden", 1978. 6'. 5 movements. Prem. Hundige 1978. Ed. Kirkemusikforlaget 2004 "Maet min sjael" Manus p. 42.
Magnus, f. organ, 1972. Prem. Skovshoved 27.11.1972. Awarded a prize af Stockholms International Organ Festival 1973. Ed. EDITION-S. See the score here.
Bach's Christmas f. SATB (8 Chorales of J.S.Bach), solo oboe and organ, 2007. Approx. 20'. The choir sing 8 chorales from the Christmas Oratorio I, II and III, and the oboe plays nine short solo movements and a few obbligato parts. Manus.
Et recordatus est f. solo soprano, treble voices and organ, 2006. Text: Latin, Luc.22,61b-62. Manus
Angst f. SMA, obo and stringquartet, 2004. Ed. EDITION-S 2004. Tekst: H. C. Andersen. Danish. 10'30"
   See the score: Full score here; version for obo, choir and organ here.
Nunc Est f. mezzosoprano, clarinet in A and organ, 1989. Prem. 12.6.1990, ca. 18'. Ed. EDITION-S See the score here. Movements: 1.Quis credidit - 2.Clama - 3.Sic enim - 4.Amen, Amen - 5.Novissima hora.
Sic Enim, f. mezzosoprano and organ, 1985. Prem. 1985, 7½'. Ed. EDITION-S. (Edition for mezzo, clarinet and organ is included in the composition: "Nunc est").
Af De Tre Venners Lovsang, f. mezzosop., girl choir and orgen, 1984. Prem. Hundige 1984, ca.5' Manus
Det er mig der vælter, 4 hymns, f. soprano, mezzosoprano and organ, 1981. Prem. Hundige Kirke 1981, 11'. Ed. EDITION-S, manus.
Lille Te Deum, f. treble choir and organ. 1976, Prem. Hundige Kirke 31.10.1976, 10'. Ed. Egtved. c/o Edition Wilhelm Hansen