Henrik Colding-Jřrgensen: Diptychon
f. female choir and violin, 2011.
I. Eloi f. SA + vl. Text: Bible: Mark 15, 34 (Ancient Aramaic)
II. Clamavi f. SMA + vl. Text: Bible: Psalm 129, 1b-2, 4b-5 (Latin)
Ed. Schott Music Gmbh & Co., Mainz
                            Preview and download here
                            Copyright ă 2015 Schott Music.
"Diptychon" recieved a special mention from European Award for Choral Composers
September 2014. The award ceremony took place in Pécs Sunday 26 April, 2015.
See the press release here and the award certificate here       .
Audio fragments from 1. and 2. movements.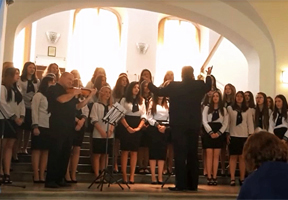 Virág Benedek Női Kar
Fragment of 1. movement (Eloi)
Fragment of 2. movement (Clamavi)
Texts:
1. Eloi:
Eloi, eloi, lema shabaqt'ani?
2. Clamavi:
De profundis clamavi ad te, Domine, exaudi vocem meam.
Fiant aures tuae intendentes in vocem deprecationem meae.
Sustinuit anima mea in verbo ejus: Speravit enima mea in Domino. Amen.